We have been busy in the art room!  Not only have we been learning routines, but we have been making some amazing art.  Enjoy some pictures and descriptions of what each grade level has been working on.
Kindergarten
 .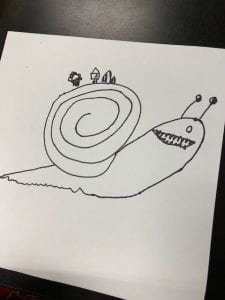 Kindergarteners used different lines to make a snail.  The snail's shell is carrying some things that these kindergarteners are missing from home.
Our youngest artists learned about primary colors through the work of Piet Mondrian.  Students created their own version of Mondrian's work using horizontal and vertical lines.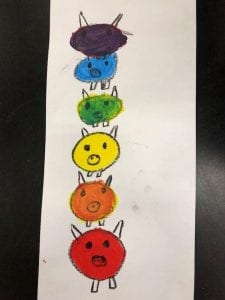 Kindergarteners mixed primary colors to make secondary colors.  The result was a rainbow of pigs!
Students ripped paper and glued it to a background to make a rainbow.
On this project, students drew and cut an apple and then glued it to paper.
1st Grade
First graders used different types of lines and shapes to make a turtle.
In this project, artists used primary colors to mix secondary colors to make a rainbow tree.
First grade artists made a color wheel and noticed that half the wheel has warm colors and the other half has cool colors.
First graders drew a fall leaf and colored it in with warm colors.  Then, they made a background with cool colors.
2nd Grade
Second graders used different types of lines to make fish with patterns.
Second grade artists thought about negative and positive space in this printmaking project.  They used leaves and grasses to make these lovely prints.
3rd Grade
 .   
In this project, third graders studied the work of Heather Galler as inspiration for their folk landscapes.  They used different lines and shapes to create patterns and then painted their landscapes.
 .    
Fourth graders used geometric and organic lines to create a tree drawing in this project.  Students used cool colors for the background and warm colors around their trees.
4th Grade
Fourth graders were inspired by medieval illuminated letters to create letters of their own.  Their initial was painted gold and emphasized by color and pattern in the background.
Artists in fourth grade studied the wattle and gum tree, plants that are indigenous to Australia.  They drew the plants and used warm and cool color soft pastels to emphasize the plants. The results were stunning!
5th Grade
Fifth graders practiced using different types of lines to create owls.  They used black glue to trace over their owl drawings and the filled them with color using water color crayons.
Fifth grade artists studied the work of Friedensreich Hundertwasser.  They created their own art inspired by Hundertwasser's love of nature while thinking about color, shape, and space.